Chessbase
DVD
Chess Prodigies Uncovered: Sergey Karjakin
Recently I made a new DVD about the youngest grandmaster ever, Sergey Karjakin. Here's the info about it from the ChessBase site:
30.8.2013 – Chess Prodigies Uncovered presents a new series, and who better to start with than the youngest grandmaster ever, Sergey Karjakin. Spearheading this first is IM Lorin D'Costa, who presents 26 games of the prodigy, using them as a teaching tool for those who wish they could do as well, and making use of ChessBase's newest interactive video technology.
Review by Albert Silver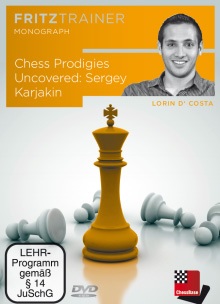 When it comes to the DVDs and multimedia presentations, I'll be honest, I am partial to games collections. Maybe it appeals to the lazy in me, but watching a great game by a great player, presented over ten to twenty minutes is much like those lectures you can go to at a club, except in the comfort of your home, with the option to pause and replay as often as you want.
The latest games collection released by ChessBase certainly carried appeal by the title "Chess Prodigies uncovered: Sergey Karjakin", since although I love the great old masters, there is certainly enough talent today to warrant looking at the newer generation. My only hesitation was that I did not know the author at all, which left me on the fence. It wasn't so much that IM Lorin D'Costa is not a grandmaster, since I have seen plenty of excellent lectures by masters before, the question was would this be one?
The DVD is among the very first to use ChessBase's new presentation style, and the reason is not simply a revamping of the marketing, but the introduction of new interactive video technology, but more on that after.
The table of contents promised no fewer than 26 games, all from Karjakin's junior years,  from a budding talent to his first games as a grandmaster, the youngest ever at twelve years and seven months. The very first of these opens to an endgame from Karjakin,S – Klimanski,V (UKR-ch Sevastopol, 2000) and also shows the first glimpse of what to expect.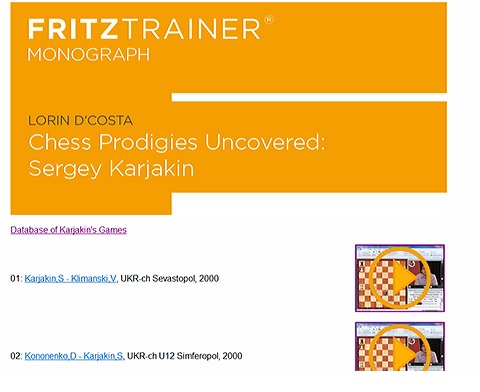 The new style of presentation
It was a pleasant relief to see Lorin D'Costa begin his smooth presentation with his clear British diction. His angle throughout all the lectures is also exceedingly clear: whilst being a representative selection of Karjakin's games, they were also chosen for their instructional value. In fact, D'Costa clearly knows not only what he wants to achieve, but who his target audience is.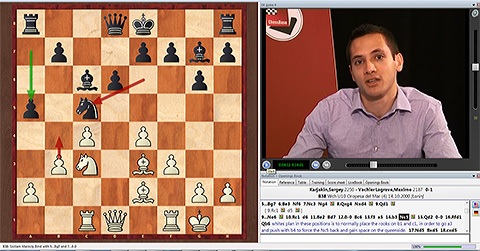 IM Lorin D'Costa gives a smooth and instructional lecture
Throughout the games, the author asks us what we understand, whether we see the reason behind the moves, or what comes next, always trying to make sure as much instructional value is derived from the games as possible. You are shown the importance of tailoring an opening repertoire that suits your style, and how Karjakin learned from just such a misstep early on. What aspect should a player study to achieve the quickest improvement in his game? All these aspects and more are touched upon and discussed. Lorin's unhesitant presentation shows ample preparation and he is quite comfortable in front of the camera. All in all an excellent job.
After the twenty six games is a selection of six video test questions. Therein lies the new interactive video, and it works very well. In a nutshell, these are much like the well-known test questions found in ChessBase databases, except that instead of a text question with a text continuation, here the text is replaced by a short video presentation with the solution shown by the author. The new idea works very well, and the test questions are much more than just a quick 'White to play and win', they are full-fledged videos in their own right.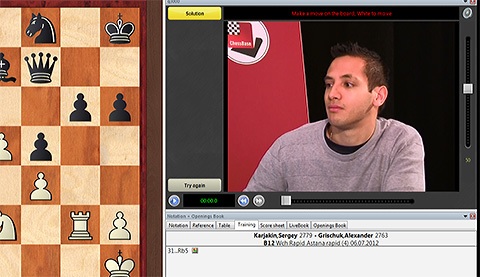 In the new interactive videos, the author presents the position after which you are asked to give your answer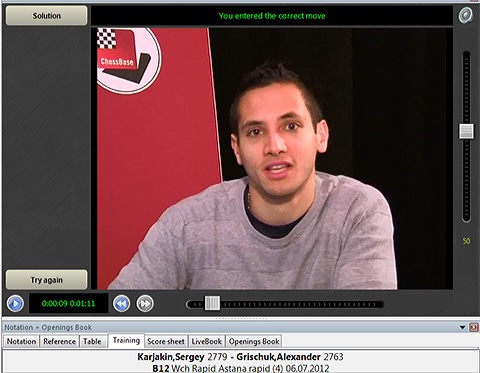 After finding the move, the author congratulates you
Finally, once done, the DVD comes with a full collection of over 1700 games by Sergey Karjakin, from his earliest games to his most recent. What is more, is that they are not stripped down game scores, but includes hundreds of commented games taken from ChessBase Magazine and Mega Database, with dozens commented by Karjakin himself, Aronian, Carlsen, and more.
IM Lorin D'Costa shows how Sergey Karjakin beat Alexandra Kosteniuk in style
Despite some reservations on what to expect, I found IM Lorin D'Costa's choice of material and presentation excellent and very objective, as he used each game chosen, not only as an example of Sergey Karjakin's immeasurably talent, but as a means to instruct students of the game. The new multimedia test questions were enjoyable and the video definitely adds to the experience. Add to all this tons of commented games of the super grandmaster and it is easy to recommend it.
Chess on Toast
DVD

s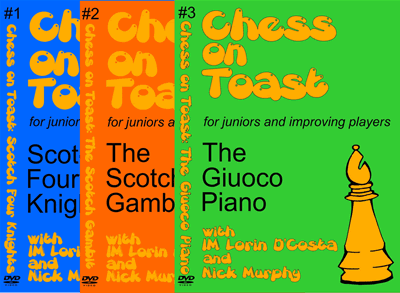 Chess on Toast is a brand new series of chess DVDs aimed at juniors and improving players.
Brand new Chess on Toast DVDs:
#1 The Scotch Four Knights
#2 The Scotch Gambit
#3 The Giuoco Piano
#4 The Bb5 Sicilian
#5 The Milner-Barry Gambit
#6 The Evans Gambit
with more titles in the pipeline…
International Master Lorin D'Costa and Nick Murphy guide you through the twists and turns of a whole host of exciting chess openings. Each Chess on Toast DVD contains a series of videos covering one specific chess opening, usually split into four 20-25min chapters.
The aim is teach you the ideas BEHIND the openings, and to give you confidence to play them in your own games!
Check out www.chessontoast.com for more info
Chess on Toast intro video
Sample video (from #3 The Giuoco Piano)